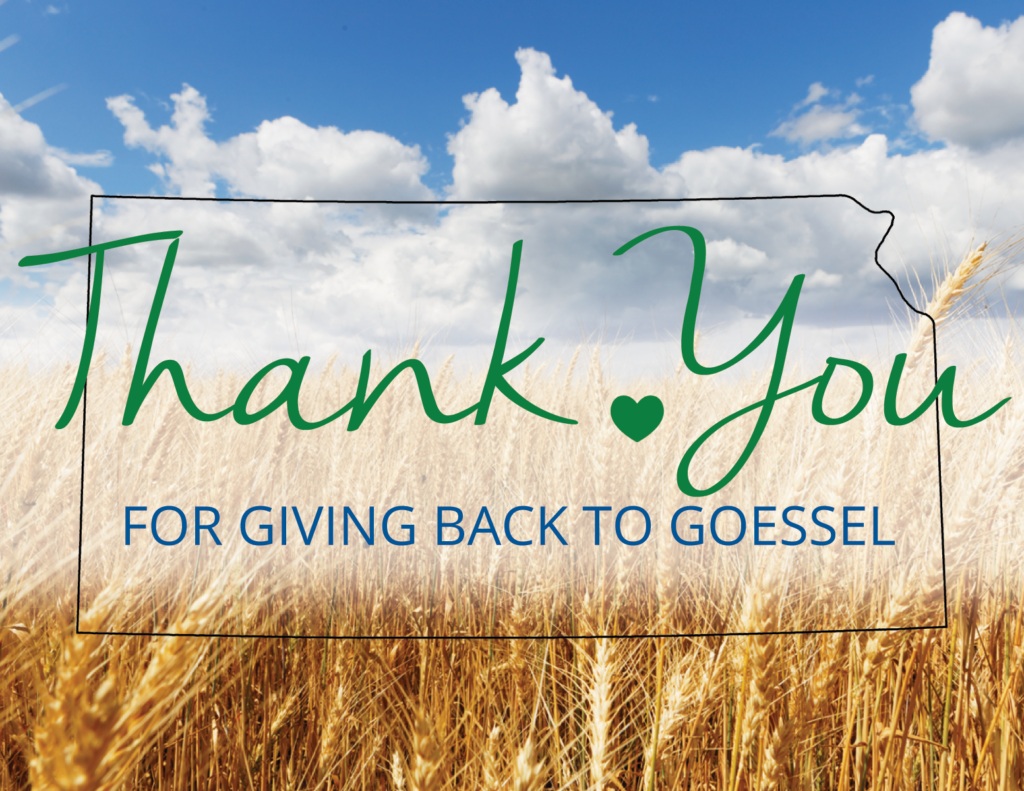 Upcoming Event: Join Goessel Community Foundation for its annual Benefit Golf Tournament on Saturday, September 16, 2023 at Pine Edge Golf Course (Newton). Tickets are $50 and include 18 holes golf, 3 mulligans, lunch and prizes. Follow the link below to reserve your spot today!
---
Giving Back to Goessel: The concept is simple: By remembering your community in your legacy — by leaving just 5% of your estate to your local community foundation — you will help ensure your community's future.
Giving Back to Goessel Brochure      Donate to the Goessel Impact Fund
---
Across America rural communities face big challenges as economies change, populations shift, and government resources dramatically decline. Your Goessel Community Foundation offers a solution – a vehicle to help preserve our community's existing wealth.
Goessel Community Foundation was founded in 2010 by a group of dedicated Goessel citizens to assist in providing resources for a broad range of existing and future charitable needs in the Goessel, Kansas area. The mission of the Goessel Community Foundation is to enhance the quality of educational, cultural, civic and economic life in Goessel both today and in the future by:
Enabling donors to fulfill their charitable interests

Building a permanent endowment

Facilitating prudent management and care of funds
Meeting community needs through grants, awards, and  scholarships.
Advisory Board of Directors
Dwight M. Flaming, Chair
Matthew Voth, Vice Chair
Carol Reimer Duerksen, Secretary
Delbert Peters, Treasurer
Darla Banman
Mary Rosfeld
Matt Lehman Wiens
Grant History
Scholarship History
Grants & Scholarship Information
CKCF Grants Page          CKCF Scholarships Page
CKCF encourages grant recipients to share the Goessel Community Foundation logo on any public event materials. This logo can be used on your organization's website, social media accounts or event printed materials.