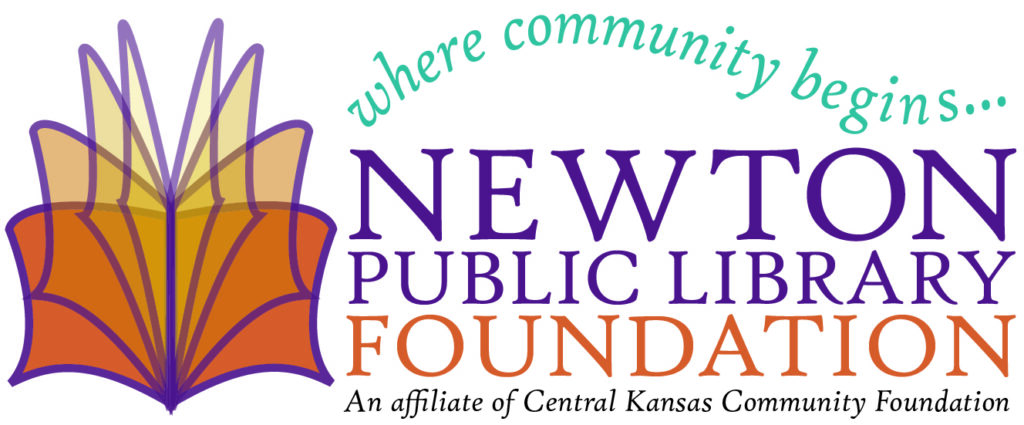 Established in 1886
The mission of the Newton Public Library Foundation is to support the work of Newton Public Library by funding collections, capital projects, and other endeavors that benefit our communities. These funds supplement the library's annual tax funding and help provide services and materials that would not otherwise be possible.
Newton Public Library Foundation is an affiliate of the Central Kansas Community Foundation and has its own board of directors, which raises funds to build the library's endowments and also manages distributions from legacy funds.
Board of Directors
Board members are approved by the Newton Public Library Board of Trustees and serve three-year terms. Members may serve up to two consecutive terms. Board members do not have to reside within the city limits of Newton, and there is no set number of board members.
Angela Becker, president
Charlie Robison, vice president
Tami Carlgren, treasurer
Cari Cusick, secretary/library director
Ashley Klein, representative from Newton Public Library board of trustees
Libby Albers
Chris Allen
Marissa Murphy
Foundation Funds
Newton Public Library Foundation encompasses the following funds, all of which are open to ongoing donations:
Building Fund: Established as part of the WHERE COMMUNITY CONNECTS capital campaign, this fund houses proceeds from the campaign toward the $2.7 million fundraising goal. These funds are to augment funds committed by the City of Newton and Newton Public Library toward the new library, which will be built next to the existing facility in Newton's Military Park, and is estimated to cost approximately $10 million.
Second Century Library Endowment Fund: The original fund of the foundation, this fund was established on the library's 100th anniversary in 1986. Funds have been given by many committed individuals through the years, as well as raised through the Newton/North Newton Garden Tour annual event. Distributions from this fund are used to enhance the library's adult collections at NPL. Recent examples of Second Century funding include library databases, digital e-books and audiobooks.
Silverstein-Montee Fund: This endowed fund was established by the Monty L. Montee and Louis H. Silverstein estates, and is designated toward collection development and staff at NPL. Recent uses of Silverstein-Montee funds include board games, Switch games, and book discussion sets.
Helen E. Claassen Endowment Fund: This fund, established through a generous gift from the Helen E. Claassen estate, is used to fund large capital projects of Newton Public Library. Distributions from this fund are currently being held for use toward the new library project.
Operating Fund: This fund, the smallest of the five, provides funding for the operational costs of the foundation, such as advertising and supplies for events like the annual Newton/North Newton Garden Tour.
History of the Newton Public Library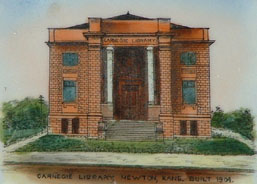 Miss Clara Rand of Chicago, a teacher in the city schools, promoted the idea of a library for Newton in the late 1870's. The "Ben Franklin Library', a semi-private affair, was established and later the Newton Public Library Association was organized with a membership of $1.00 per year. In 1886, at a special election, the citizens voted to establish and support the Newton Free Library.
The site at 2nd and Main was the gift of E.C. Llewellyn and was built by a gift of $15,000.00 from Andrew Carnegie. The City guaranteed at that time the necessary $1,500.00 yearly maintenance. On March 14, 1904, the Newton Free Library held an open house in their new building. It was built to serve a population of 8,000 and today is the oldest public building in town. In 1904, it became a member of the American Library Association. With periodic remodeling, the Carnegie Library served the needs of the community for many years.
On April 19, 1966, the City Commission voted to set aside one mill each year to accumulate funds to build a new library. The levy was for 10 years, or until $275,000.00 was accumulated. An additional grant of $53,341.00 in LSCA Title II funds became available. On January 27, 1972, bids were awarded for construction of a new building at the corner of 7th and Oak.
Transfer from the old Carnegie Library at the corner of 2nd and Main was made to the Newton Public Library in February 1973, and a Ribbon Cutting – Open House was held on April 1, 1973.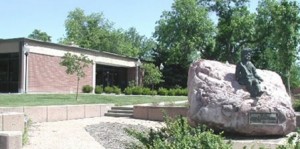 In 1980, using $185,000 provided by Florence Bessmer, a wing for children called The Florence Bessmer Addition for Children was added. The Florence Bessmer Foundation began providing annual enhancement funds in 1983, primarily for Children's Services.
In 1986, for the Centennial Anniversary, Alden Allbaugh wrote a comprehensive history of the Library entitled The Newton Public Library 100 Year History 1886 – 1986. The Newton Public Library Foundation was incorporated to provide funds for enhancement of Adult Services.
 Make your commitment to the future – today!
Contact the Newton Public Library Foundation
720 North Oak
Newton, KS  67114
(316) 283-2890