Philanthropic Preparedness Resiliency and Emergency Partnership (PPREP)
Central Kansas Community Foundation continues to participate with a group of 21 community foundations from 10 Midwest states in the Philanthropic Preparedness Resiliency and Emergency Partnership (PPREP) sponsored by The Funders' Network of Coral Gables, Florida. PPREP is about strengthening the relationships between community members and organizations to maximize their impact in preparing for and recovering from disasters.
Over our four-year partnership with this group CKCF has greatly increased our awareness of and investment in disaster philanthropy.  Most recently, the knowledge we built as a part of this cohort guided us in the process of grant-making mid-year of 2020 in response to the COVID-19 pandemic and strengthened our ability to assist the Harvey County Commission in management of the CARES Act funding for Harvey County.
The National Oceanic Atmospheric and Atmospheric Administration (NOAA) recently released information regarding climate disasters of 2020, and the following is from their website:
It was an extraordinary year for weather and climate events in the U.S.: The nation endured an unprecedented 22 billion-dollar disasters in 2020.
A record number of named tropical storms formed in the Atlantic, with a record 12 making landfall. The nation also had its most active wildfire year on record due to very dry conditions in the West and unusually warm temperatures that gripped much of the country.
Here's a recap of the climate and extreme weather events across the U.S.in 2020, according to scientists at NOAA's National Centers for Environmental Information.
Climate by the numbers
Billion-dollar disasters in 2020
Last y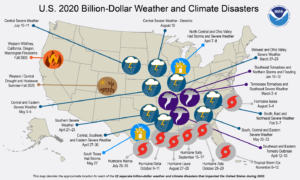 ear, the U.S. experienced a record-smashing 22 weather and climate disasters that killed at least 262 people and injured scores more:
1 wildfire event (Western wildfires focused across California, Colorado, Oregon and Washington)
1 drought and heatwave event (summer/fall across Western and Central U.S.)
3 tornado outbreaks (including the Nashville tornado and Easter outbreak)
7 tropical cyclones (Hanna, Isaias, Laura, Sally, Delta, Zeta and Eta); and
10 severe weather events (including the Midwest derecho and Texas hail storms)
Damages from these disasters exceeded $1 billion each and totaled approximately $95 billion for all 22 events.
Damages from these disasters exceeded $1 billion each and totaled approximately $95 billion for all 22 events.
---
Central Kansas Community Foundation remains committed to our work as a funder who is prepared to respond in the event of a disaster. It is important to remain aware that disaster can strike any time and under a variety of circumstances. One disaster response organization with which CKCF has a relationship is the Center for Disaster Philanthropy whose website is:
Currently our attention goes to the people of Australia as the brushfire battle continues. If you are interested in learning more about ways to support, please visit
https://disasterphilanthropy.org/disaster/2019-australian-wildfires/
An upcoming initiative for Central Kansas Community Foundation and supported by a grant from the Funders' Network, centers around disaster preparedness education for elementary students in the CKCF affiliate network. Watch this space for updates.
Disaster Support Coordinator
Susan Lamb
Central Kansas Community Foundation
(620) 327-2422
susan@centralkansascf.org
---
CKCF Disaster Donor Services
Welcome to the Disaster Support webpage for the CKCF service area, sponsored by the Central Kansas Community Foundation. We research and vet charitable organizations that are currently taking donations for national and local natural and situational disaster events. Donations to these organizations are safe and tax deductible to the extent of the law.
In addition, should there be a crisis or natural disaster in Harvey County or the surrounding service area, we will post information here and provide a tax deductible means for you to support your community and any victims through charitable giving.
---
Disaster Support Resources
Multi-Agency Resource Center – MARC: Planning Resource
Harvey County Emergency Management
Tips on Preparing your Community for a Disaster