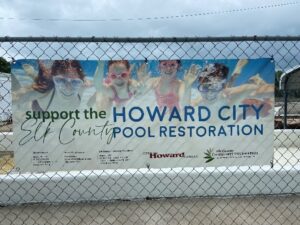 SPOTLIGHT PROJECT
In 2020 it became apparent to the citizens of Howard that the future of the Howard City Pool would possibly be closed for the future. This group of concerned citizens decided to approach the Howard City Council and find out what could be done to keep the pool open. The Howard City Council agreed to use memorial and other funds to renovate the pool if the community would raise an additional $20,000 to show their support of the pool project. The ECCF came alongside this group of citizens and began a campaign to raise the necessary funds. With the support of community members all over Elk County and former citizens the necessary funds were raised! The ECCF presented a check to the Howard City Council for $14,350 which along with funds that were collected in the Howard City Office met the $20,000 goal. The ECCF continues to hold and collect additional funds for the future needs of the pool. The pool is scheduled to open in mid-June 2021 with a grand re-opening celebration to be held in July.
---
GRANT APPLICATION OPEN
Elk County Community Foundation is taking applications for a $300 grant through July 15, 2021.
Please feel free to share with organizations that might be interested.
Grant Application: Click Here
Contact Kate Perkins for more information: kate.perkins67@gmail.com
__________________________________________________________________
On March 17, 2014 the Elk County Community Foundation affiliate was formed. Please contact us if you would be interested in contributing to any of our established funds or wish to create your own.
Advisory Board of Directors
Cathy Mitchell
Shirley Black
Dana Denton
Susan Galvan
Liz Hendricks
Kate Perkins
Marcia Taylor
Angela Allen
Please refer to the Elk County Community Foundation Brochure for more information.
Foundation Funds
Elk County Community Foundation Operating Fund
Elk County Community Foundation Scholarship Fund
Elk County Community Impact Fund
Elk County Youth Fund
Ernest Frank Horn, Jr. Endowed Scholarship Fund
Jim and Steve Cunningham Nursing Scholarship Fund
Elk County Response Fund
Howard City Pool Fund
Historic Bank Building Fund
2017 Grants
Howard United Methodist Church
City of Grenola
2018 Grants
K-State Research and Extension-Rolling Prairie Extension District
Elk County Ministerial Alliance
2020 Grants
Historic Howard Bank Building Fund
Howard City Pool Fund
---
Use the following link to make an online donation.