Mark Krieder
Graduate from Goshen College in May 2018 with a double major in Music and Environmental Science.
Pursuing a career in the field of ecology and conservation, working to protect and champion ecosystems at risk.
Gift Amount: $1,600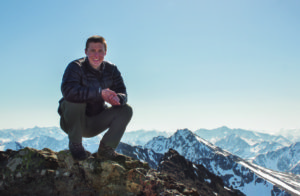 The Scholarship
The Jean and Virginia Coleman Music Scholarships are for Newton High School seniors who are furthering their careers through higher educational pursuits through a college or university. Candidates are those who are involved in school and/or community musical activities and plan to continue to promote the enjoyment of music for self and others through musical activities and/or performance beyond college. The number of students awarded and the dollar amount given is based on money available as well as the talent and work ethic of those applying.
Impact
I am very grateful for this scholarship, which is a huge help as I pursue a degree in Music (Piano Performance). Beyond that, this scholarship reminds me of the supportive community from which I come – one that values the arts and giving back to others. I hope to emulate this generosity in my own life, sharing my gifts, time, and money with those around me.
Apply Today!
Check out CKCF and regional affiliates scholarship opportunities on our website