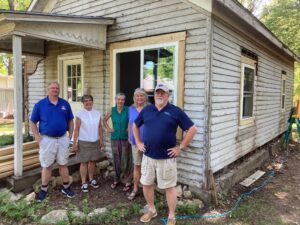 The Peabody Community Foundation (PCF) is exploring community improvement, especially as it relates to housing, as part of an opportunity through the Kansas Association of Community Foundations experiment to apply the United Nation's Sustainable Development Goals (SDG) in the rural Kansas context.  PCF is one of five community foundations in the state to participate in the SDG project.
The effort is being led by five local influencers, selected for their community involvement and leadership:  Tom Spencer, Peabody Mayor; Ron Traxson, PCF board member; Becky Nickel, PCF Director; and community leaders, Lynn Berns and Susan Mayo.  This group is making housing their primary focus and anticipates procuring funds for research and the implementation of housing projects.
In addition to conducting dozens of stakeholder interviews, the SDG Team hosted a public meeting facilitated by WSU's Community Engagement Institute on July 11, all in an effort to solicit input about the housing needs and priorities in Peabody.
"Our SDG Team is energized about the potential of working within the SDG framework to address our community's needs.  There are 17 SDG goals and we've narrowed our focus to Goal 11, Sustainable Cities and Communities," said Nickel.  "Each goal has several targets under it.  The first target under Goal 11 is adequate, safe and affordable housing which is a real need in Peabody."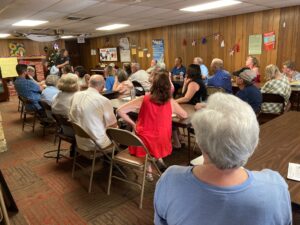 At its April planning session, the PCF Board of Directors named community improvement as a goal for the foundation, which aligns with the SDG goal for Sustainable Cities and Communities. The Board anticipates close collaboration with the SDG Team and the Peabody City Council toward this goal.
The SDG project is supported by the C. S. Mott Foundation and implemented by the Kansas Association of Community Foundations in partnership with the WSU Community Engagement Institute.  PCF, an affiliate of Central Kansas Community Foundation, is a member of the Kansas Association.
In addition to working locally, the five Kansas SDG teams are learning about efforts around the world where the SDG goals are being applied to issues like poverty, education, and hunger.  PCF, like many community foundations, is already working to reduce poverty and promote healthy lifestyles by granting funds to local charities with programming in these areas.  The SDGs provide a blueprint for asset development, community engagement, and investment strategies.
The two-year Kansas SDG project began in September 2021.  Learnings from the Kansas experiment will be shared with community foundations across the nation, as well as abroad, to inform and encourage more community foundations to incorporate SDGs into their work, regardless of their size or location.  The other Kansas foundations participating in the project are Rice County Community Foundation, Legacy-A Regional Community Foundation, Western Kansas Community Foundation, and Bird City Century II Community Foundation.