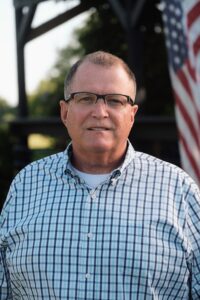 August 1, 2022, Max Heinrichs will be joining Central Kansas Community Foundation (CKCF) as the Director for the Hillsboro Community Foundation (HCF). HCF is an affiliate of CKCF.
Max retired in June from USD 410 after a 6-year tenure as Superintendent. In all he worked 39 years in education, 29 of those working in some capacity for USD 410.
Though not born in Kansas, Max has lived in Hillsboro for most of his life and considers it his hometown. He graduated from Hillsboro High School in 1979 and from Tabor College in 1983 with a physical education degree. He received three additional master's degrees: educational psychology from Emporia State University (1987); leadership/administration from Kansas State University (2000); superintendent from ESU (2008).
A bridge to this position is his involvement with Hillsboro Community Foundation as a member at large and, for the past 3 years, Chairman of the Board. This experience will provide the community a director that already has established relationships and familiarity with the work of the foundation.
Max and his wife Krista have three grown daughters and 2 granddaughters and 3 grandsons.
Max Heinrichs, HCF Director, can be reached at director@hcfoundationks.org.