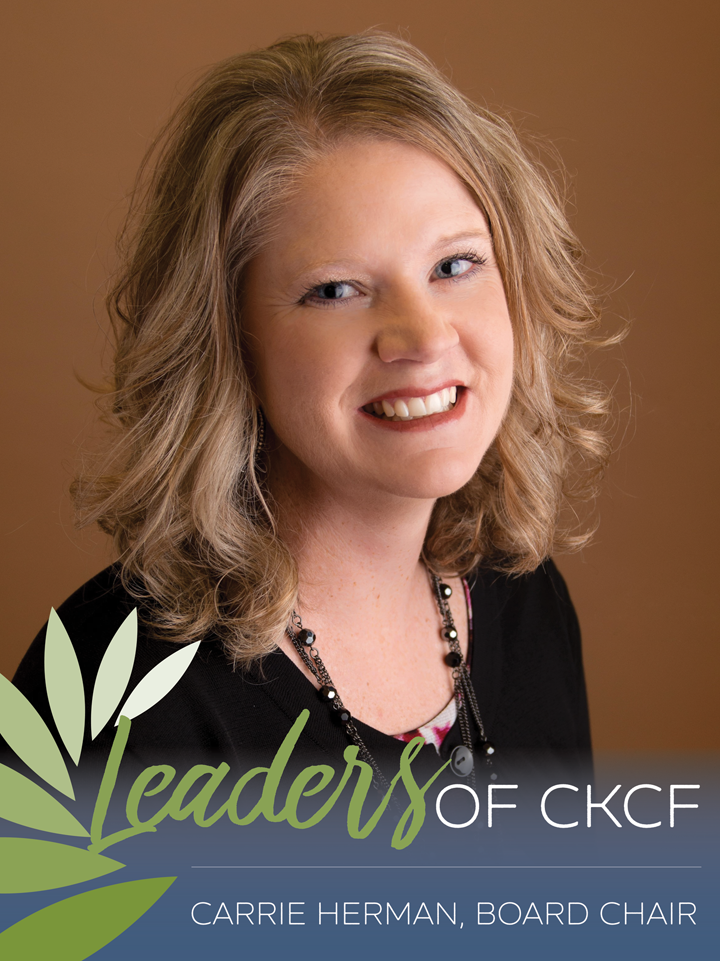 CARRIE HERMAN
CKCF BOARD CHAIR
ABOUT CARRIE
Carrie Herman is a graduate from Halstead High School and obtained her Bachelor in Business Administration from Pittsburg State University.  When not working or serving the community, Carrie and her husband Clint enjoy watching their two sons (Cole 15, Connor 10) in multiple sporting activities and also spending time at the lake.

CARRER
Carrie has been the Executive Director at the Kansas Learning Center for Health in Halstead since July 2016.  Prior to that she spent almost nine years at Asbury Park where she was most recently the Vice President of Operations.

CARRIE IS PASSIONATE ABOUT CKCF!
A previous Board Member introduced Carrie to CKCF and invited her to become a part of a wonderful, growing foundation.  Her passion is to see the scholarships and grants continue to flourish, giving back to the surrounding communities in wonderful ways.  This is possible by promoting the Community Foundation and helping others invest in the causes that are near and dear to their hearts.
COMMUNITY ENGAGEMENT
In addition to serving as the Board Chair of CKCF, Carrie serves as the Vice President of P.E.O. Chapter AK and as a Past President of the Newton Lions Club.  Carrie is also involved with the Healthy Harvey Coalition, Healthy Harvey Drug Free Communities Coalition, USD 440 All School Alumni Committee, and the AFP Greater Wichita Chapter.
FUN FACT ABOUT CARRIE
After college, Carrie enjoyed traveling across the US on a promotional tour hosting pre-concert events for the Rolling Stones.