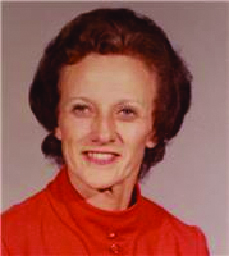 In 1995 Margaret E. (Reimer) Friesen recognized the plan to bring Newton Medical Center to Newton, Kansas was important to the community. She and her husband, William, established a single-life charitable annuity fund to support the efforts of the hospital in celebration of her 26-year career as a nurse.
Newton Healthcare Foundation, which later became Central Kansas Community Foundation, worked with Friesen to establish this charitable gift, that gives twice. For 30 years, Friesen received a semi-annual distribution from the annuity and now the remainder is given to charity. She restricted her gift, the remainder of the annuity, to Newton Medical Center.
"When I spoke with Margaret's daughter, Michelle Friesen-Carper, about the annuity beneficiary she was delighted to learn the gift would be over $17,000," said Angie Tatro, Executive Director of Central Kansas Community Foundation. Michelle went on to say how important nursing was to her mom who worked as a night supervisor until 1982.
Individuals like Margaret Friesen are building stronger communities through giving that matters. Connecting to each of our individual passions is what can make us all better. Margaret is a great example of that.
"Throughout her career in nursing, Margaret undoubtedly touched the lives of many. Now, through this generous financial gift, William and Margaret will continue to impact those at Newton Medical Center," said Val Gleason, President and CEO of Newton Medical Center (NMC).
Gleason went on to say, "It (the gift) will allow us to provide nursing scholarships, so that other nursing professionals at NMC will have the opportunity for continued education. It will also help fund a new Memory Garden, an outdoor area for the patients and families of our Generations Unit. Through this gift and its designation, Margaret's legacy of caring for others will live on in our community."
If you want to learn more about how you can set up a charitable fund and make a difference to a cause that matters to you, please contact Angie Tatro at Central Kansas Community Foundation, 316-283-5474.
Friesen passed quietly in her sleep the morning of Sunday, Feb. 19, 2017 at Bethel Kidron Village, North Newton, Kansas. Margaret and her husband, William, had three children: Randall Friesen of St. Charles, Missouri, Michelle Friesen-Carper of Valparaiso, Indiana and Warren Friesen of St. Peter, Minnesota. Such with the cycle of life, this family began a time of mourning as they also rejoiced for a birth of another great-grandson, born 20 minutes after her death.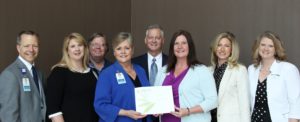 Check Presentation May 2, 2017
(First Row L to R: Todd Tangeman, NMC Chief Operating Officer & Chief Human Resources Officer; Heather Porter, NMC Associate Chief Clinical Officer; Val Gleason, NMC President & Chief Executive Officer; Angie Tatro, CKCF Executive Director; Jennifer Vogts, CKCF Board Member; Carrie Herman, CKCF Vice Chair. (Second Row L to R: Rod Kreie, CKCF Finance Chair; Mel Schadler, CKCF Board Member.