---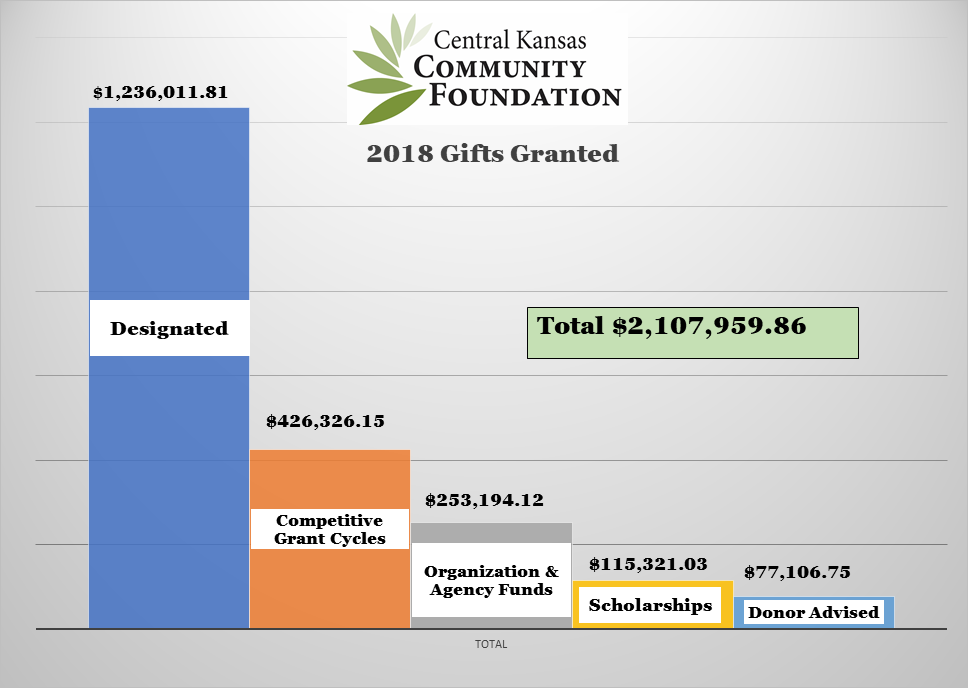 In 2018 Central Kansas Community Foundation awarded a total of $2,107,959 in gifts to charities located in our affiliate foundation region along with charities around the United States.
The largest gift area was from the designated funds awarding a total of $1,236,011. These funds are a charitable vehicle that allows individuals, families or small groups to raise funds in support of a specified non-profit organization. In 2018, there were two grants given that totaled $804,000. These were specific community projects in Valley Center and Hesston.
CKCF manages 19 competitive grant cycles which are supported by 29 unrestricted and field of interest funds. In 2018, 292 charities in Kansas received a total of $426,326 in support from those funds. Each year CKCF receives grant request from charities in Kansas, in 2018 the asked totaled close to $700,000.
Forty-one endowed organizational and agency funds provided $253,194 in support.
Many scholarship funds are administered each year. In 2018, there were 58 scholarship funds awarding a total of $115,321 in support to individuals.  These individuals are graduating high school seniors, undergraduates, graduates and nontraditional students who are attending community colleges, four-year universities, career/technical schools in the United States.    Many of the scholarship funds managed by CKCF were established by generous donors from our affiliate communities who value education and want to make a difference.
Donor advised funds allow donors to make a charitable contribution to their favorite charity.  In 2018, 27 funds awarded $77,106 to their charity of choice.