Newton, Kan. (December 13, 2021). The Central Kansas Community Foundation held their Annual Meeting on October 25, 2021 to celebrate achievements as they bid farewell to outgoing members and hello to three elected members. The  Governance and Compliance Committee brought forward for consideration these nominees which were voted in unanimously.  On December 13, 2021 they attended their first meeting as members at large.
The 2021-22 Board of Directors now is structured with Rachel Swartzendruber Miller, Hesston, assuming the chair position. In fact several officer positions are now being held by new members. The Foundaitons Executive Committee now includes, Miller as Chair;  Jennifer Vogts (North Newton) as Immediate Past Chair; Becky Wolfe (Augusta), Vice Chair; Anthony Roy (Hillsboro) Vice Chair Elect;  Amy Budde (Newton), Secretary; Rod Kreie (Newton), Treasurer, and Ron Lang (Newton), Finance Committee Chair.
Please see more information about the three new members of the board as they accept this community service.
---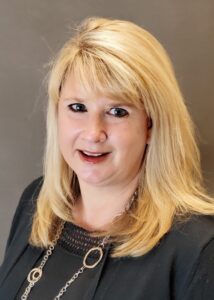 Heather Porter is the chief clinical officer at NMC Health. She joined NMC Health in 2003. She has served in a variety of roles including medical case manager, director of case management, and associate chief nursing officer of population health. She will bring a lense of health and wellness, plus business achumen to the foundaiton board.
Further, Porter graduated from Fort Hays State University with a Bachelor of Science in Nursing and has a Masters of Science in Nursing with an emphasis in Health Care Administration from the University of Phoenix. Porter is specially certified as a Nurse Executive and accredited case manager-registered nurse.   She recently served on the Governors Alzheimer Disease Plan Working Group to begin development of a state Alzheimer plan. She and her husband, Bob, have four grown children.
---

Keith Martens is employed by Beneficient Company Group and is based in Hesston, Kansas. Martens has a General Studies Degree from Hesston College  and earned his Bachelors of Science in Business Marketing from Wichita State University. He has served  three years on the Hesston Community Foundation Advisor Board, an affiliate of  Central Kansas Community Foundation. Martens has an expertise in marketing and healthcare. He is  deeply engaged in community service in Hesston and has a desire to serve the Central Kansas Community Foundation for engagement as a link to an affiliate community. He and his wife, Sandi, have 3 grown children.
---
 Carol Knolla is employed by the  Kansas Department of Credit Union. Knolla is a 1993 Graduate of Wichita Heights and she further gained her Bachelors Degree from Baker University in 2010. Knolla has an extensive career in banking. A resident of Bel Aire she has previously serviced on the Butler County Community Foundation as a board member. She has been engaged in fundraising efforts for several events in activities in the Butler County area and beyond. Additionally noteworthy is a past Honored Queen, Majority Member, and Recipient of the Lily of theValley award from the International Order of Jobs Daughters, BethelNo. 74. She and her husband, Brian, have three children.
---
As three new members start, the Annual Meeting also said farewell to full term service members – Todd Kasitz, N.M. Patton, Brad Bartel, Tim Hodge; and also accepted the resignation of Jason High.
Please see the full list of Central Kansas Community Foundation Board Members below:
Board of Directors 2021-22
 Officers
Chair, Rachel Swartzendruber Miller (Hesston)
Hesston College
Immediate Past Chair, Jennifer Vogts (North Newton)
Wild Prairie Event Center
Vice Chair, Becky Wolfe (Augusta)
Andover Chamber of Commerce
Vice Chair Elect, Anthony Roy (Hillsboro)
Hillsboro Community Foundation
Treasurer, Rod Kreie (Newton)
Newton City Commissioner
Secretary, Amy Budde (Newton)
Citizens Bank
Finance Chair, Ron Lang (Newton)
Midland Bank
Members At Large
James Regier (Whitewater)
Retired
Marge Warta (Newton)
United Methodist Church
Linda Ogden (Marion)
Retired
Carrie Herman (Halstead)
Kansas Learning Center for Health
Joel Gaeddert (North Newton)
Flint Hills Design
Jon Zerger (Newton)
Excel Industries
Myron Schmidt (Goessel)
Retired
Don Voth (Newton)
Retired
Allen Wedel (Newton)
Retired
Carol Knolla (Bel Aire)
Kansas Dept of Credit Unions
Keith Martens (Hesston)
Beneficient Company Group
Heather Porter (Newton)
NMC Health
For more information or if you have interest in serving, please contact Angie Tatro, CEO,  at 316-239-9451. Specific areas of interest for recruiting presently is young professionals, faith based, agriculture and finance.