Central Kansas Community Foundation (CKCF) is pleased to announce the 2019 Central Kansas Community Foundation Kids FUNd grantees which were funded from proceeds from the L. Marie Haun Charitable Fund for Children.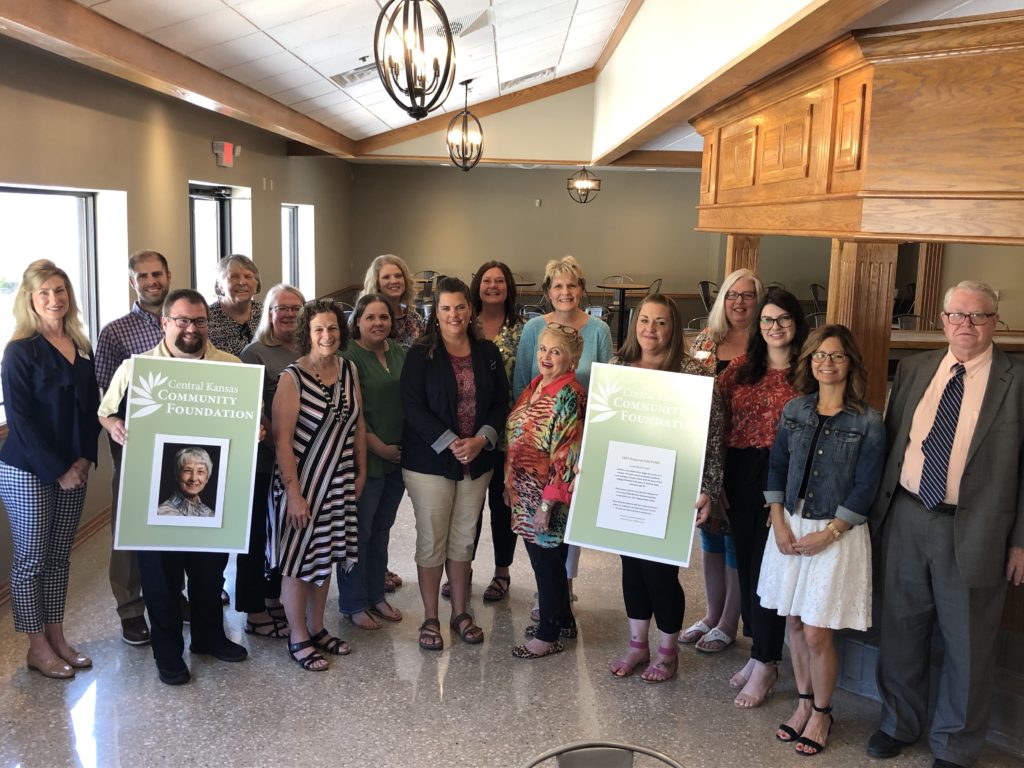 Since 2005 the Kids FUNd has been supporting local projects and programs serving kids. Originally this fund was supported by the Sand Creek Station Pro/Am Golf Tournament. After 2012 the Pro/Am completed their support of the fund and the Haun Charitable Fund was started as a means of continuing the provision of making grants to kid serving charities. The L. Marie Haun Charitable Fund for Children has awarded over $250,000 since 2013 to organizations who have interest in children's behavioral research, child welfare, teaching parent skills, and/or strengthening families.
This year $23,000 was given to eleven (11) organizations that are providing programs and projects that are supporting area children and families. Here is the list of the organizations who received funding this year and are doing amazing work within our local communities:
USD #484 Lincoln Elementary Fredonia Early Learning Center, Watch Dogs, Fredonia
Sunlight Children's Advocacy Rights Foundation, Program Services, Andover
Harvey County DV/SA Task Force, Inc., Building Better Lives for Children and Youth, Newton
Heart to Heart Child Advocacy Center, H2HCAC Stewards of Children, Newton
Mirror Inc., STAND (formally known as Youth as Resources), Harvey County
Kansas Children's Service League, Period of PURPLE Crying Shaken Baby/Abusive Head Trauma Prevention, Regional
Communities In Schools of Mid-America, CIS Program at El Dorado Middle School, El Dorado
CASA A Voice for Children, Inc., Conversations with CASA, Harvey & McPherson Counties
Butler Community College EduCare Center Learning Lab, Parents Discover the Power of Play, Butler County
Special Families, Lending Library Parenting Education Project, Augusta
Family Life Center of Butler County, Family Life Center, El Dorado
"One person can truly make a difference in the world," said Angie Tatro, Executive Director of CKCF. She went on to share that in six (6) short years proceeds from the L. Marie Haun Charitable Fund for Children benefiting the Regional Kids FUNd grant cycle has impacted kid serving charities with over a quarter of million dollars in grant resources. "The number of lives touched by these funds is tremendous." Tatro went on to welcome others who have a charitable cause or vulnerable population that matters to them to consider leaving an planned gift. Tatro is able to provide further details and options for establishing a planned gift. Contact her if you have an interest at 316-283-5474 or angie@centralkansascf.org.
Award Ceremony was hosted by Central Kansas Community Foundation Board of Directors at 9:30 am Thursday, July 25, 2019 at Wild Prairie Event Center, Newton, KS.