Menocause, a component fund of Valley Center Community Foundation, has grown and sustained
membership of 101 men in 2021 and 2022. In February they awarded $25,250 in grants to local
charities and invested $25,500 in their endowment.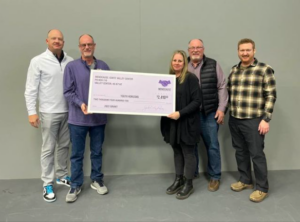 One of the grant recipients, the Youth Horizons Wren House, serves at-risk girls in Sedgwick County. According to Spike Anderson, Menocause founder and board member, the Menocause Grant Review Committee felt compelled to support the Wren House, a first-of-its-kind project which opened in Valley Center in 2022. He hopes Menocause grant will help give the program a solid start.
Continue Reading to learn more about the Wren House.
---
Wren House provides mentoring and other services in a nurturing and safe environment. The
home will offer programs designed to help its residents function at higher levels, avoid missteps and setbacks through earlier intervention, and enjoy a continuum of care that helps them eventually transition into independent living. The first phase will create capacity for 12 girls.
Where will these girls come from?
Girls and young women trapped in tough circumstances endure among us. They roam in daylight and in the shadows, often lacking access to resources, trusted networks, and other support necessary to build a better life. They are preyed on by perpetrators, ensnared in a cruel cycle of abuse, and rank among our community's most vulnerable. To address this community need, YH is building the Wren Home on 40 acres donated by late philanthropist Keith Wren. Mr. Wren requested his gifted land be developed in a way that provides for girls and young women who are at-risk of human trafficking.
How it will be used to serve
The Wren Home will serve as a key partner in a collaborative local effort to combat teenage runaways, early alcohol and substance addiction, prostitution, and other forms of physical and mental health abuse. The Wren Home process has included research, engaged many stakeholders and featured a diverse task force that continues to provide counsel. Project partners include Hope Ranch, St. Francis Child Services, and the Wichita State University Center for Combating Human Trafficking. The collaboration will produce a Wren Home Advisory Board, comprised of leaders and other advocates who will help ensure success.