CKCF Celebrates Bill Hake's Retirement!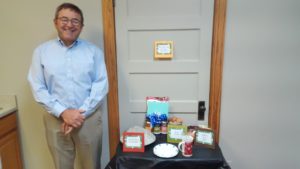 CKCF staff recently celebrated Bill Hake's years of service as the affiliate staff program officer. He has been a servant leader in numerous capacities at CKCF – he served 9 years as board member and held the chair position; he has worked as our affiliate liaison as staff for over 4 years and has been a dedicated donor with his daughters, sharing his story as an example for familial philanthropic giving!
Valley Center Community Foundation raises $12,000 with Pie Auction
Two pies sold for more than $1,000 each. A third went for $3,000.
The second annual Community Pie Auction Nov. 20 saw 20 homemade pies raise $12,641 for the Valley Center Community Foundation.
"We continue to be impressed by our community members. It's amazing how much Valley Center folks support each other year after year," said Spike Anderson, president of the foundation. "We appreciate the hard work and effort that the pie bakers put into creating these masterpieces that attracted the pie buyers. The decorations were incredible and we even had one superhero show up for the event."
Read More of the Ark Valley News Article Here
CKCF Attends PPREP Conference in Oklahoma
November brought the community foundations from the PPREP cohort sponsored by the Funders' Network together in Oklahoma City for two days, which included a tour of the National Weather Service on the OU campus in Norman. While the group received behind the scenes opportunities, public tours of the facility are available. Key presentations during the sessions centered around public policy and its role in disaster response.  As communities respond to a variety of disasters, the implications of policy are important considerations.
As the CKCF affiliates continue to navigate next steps in disaster preparedness, it is worth noting that a majority of our affiliates have response funds in place and are holding conversations at the board level to determine how best to make communities aware of this important work.
Dick and Dorothy Miller housing fund established through El Dorado Community Foundation
Friends and family of Dick and Dorothy Miller gathered recently to celebrate Dorothy's decision to establish a fund thru the El Dorado Community Foundation, with the primary purpose to help children avoid being homeless.
Read More about the event in the Butler County Times-Gazette