---
In 2014 Ellen Charlsen, while working with her Financial Advisor, wanted to ensure charitable support to her church and other charities that matter to her and her dearly departed husband, Jack. She wanted to know if there was a way for the charities to receive part of their legacy. Central Kansas Community Foundation (CKCF) Executive Director Angie Tatro worked with Ellen to establish her Donor Advised Memorandum for the Jack W. and Ellen M. Charlsen Charitable Fund, that would be established upon her death. She worked with her financial advisor in making CKCF the Beneficiary on her invested assets. It was a simple process she appreciated.
In February 2018 Ellen passed away and in early 2019 their first gifts of nearly $17,000 were distributed to her Church, the VFW Foundation, Caring Hands Humane Society, a local college for a nursing scholarship and then in their insightfulness earmarked their support for lessening the burden of government with an annual gift to the City of Newton for their K-9 program. Their endowment will support these charities that mattered to them, forever.
Tatro said, "Through education of Financial Advisors in our service region about the Keep 5 in Kansas concept, the Charlsen's Financial Advisor opened the conversation with this donor about a way to keep their family legacy alive while also supporting charities that mattered to them."  Being proactive in their planning, this couple gifted over $450,000 to the local Community Foundation to oversee their charitable gift plans.  The Foundation will manage these funds and make annual distributions to the five charitable causes outlined in their donor advised memorandum.
"The gift from the estate of Jack and Ellen Charlsen is a significant contribution to the ongoing education of future nurses at Bethel College. We thank Jack and Ellen for their commitment to the College, especially for their support of our Nursing Department," said Brad Kohlman, Vice President for Institutional Advancement. Interim Chief Craig Dunlavy learned of the support of the Newton Police K-9 Program saying, "we are overwhelmed by the generosity of members of our community." He went on to say the resources that will be received annually will be going to good use.
Tatro further added, "We are touched daily at the Foundation by the giving spirit of local community members that see the importance of giving back. The Foundation is here to support all donors, those that want to give $25 to a local community impact fund to those with large estate plans, giving in their lifetime or after death, or both. We are in a unique situation of helping others fulfill their charity mission while being a part of strategically helping strengthen the social service backbone of our communities across Central Kansas as a leader in community service and invigoration."
The Central Kansas Community Foundation is perfectly positioned to assist donors like Jack and Ellen with planned giving. If you would like more information please go to http://ckcflegacy.org/ or contact Angie Tatro, Executive Director for more information at 316-283-5474.
---
The Jack & Ellen Charlsen Story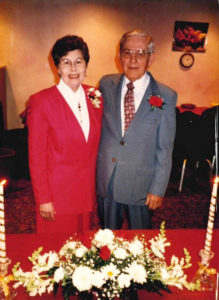 Jack (Guvekas) Charlsen was born on April 13, 1922. He attended and graduated from Newton High School in 1941. Jack played drums in the high school band and enjoyed dancing and music. In 1942, Jack enlisted in the Army Air Force and was stationed in Elmswell England during World War II. Jack was a ball turret gunner on a B17 in which he flew 28 missions over the European theatre. Jack was awarded the Distinguished Flying Cross, Air Medal with three bronze oak leaf clusters and the Good Conduct Medal. After the war, Jack has his last name changed to Charlsen as his mother remarried George Charlsen and George was the father that he looked up to growing up and for the years following.
Ellen Charlsen was born May 1, 1926 in Elyria, Kansas. Ellen graduated from McPherson High School in 1944. Ellen enrolled in the United States Cadet Nurse Corps program at Axtell Christian Hospital in 1944. Ellen agreed to be available for military or civilian services for the duration of the present war. The war ended in 1946, so she was not called to serve.
Jack and Ellen were married on February 13, 1948. Jack returned to work at Charlsen Market until he was hired by Boeing Aircraft. Jack worked as an engineer for Boeing. Ellen was a nurse. They both worked for the Apollo Space Program in preparation for the first moon flight. Jack was then transferred back to Wichita where he worked until his retirement in 1986. Ellen worked as an RN for many organizations. Her most memorable time was working with the astronauts on the moon flight. Ellen also helped set up the ER room for the movie "Walking Tall" and was an extra in the movie!
Jack and Ellen retired to Buena Vista, Arkansas, where they volunteered in their community. Due to family members' health concerns, they moved back to Newton. Jack and Ellen enjoyed their bowling leagues, where they bowled with various groups through the years. Jack joined the VFW Color Guard in 1992, where he later became Commander of the VFW Post 971 in Newton. Jack and Ellen belonged to the Zion Lutheran Church, where they were active members until their health would no longer allow them to continue. Jack also belonged to the American Legion, BPOE, Eagles of Newton, Albert Pike Lodge No. 303 and the Scottish Rite Temple of Wichita.
Jack enjoyed being outside and doing yard work, while Ellen enjoyed working in her flower garden. Ellen enjoyed showing pictures of her tomato plants in Huntsville, Alabama, where they were probably six feet tall with lots of tomatoes. They always enjoyed their little dogs. Scout was very special to Ellen after Jack passed away in 2010. He became her companion, or as Ellen often said – he was who she had left to talk to and Scout was a diligent listener.
Jack passed away on December 1, 2010 and Ellen joined him on February 25, 2018.