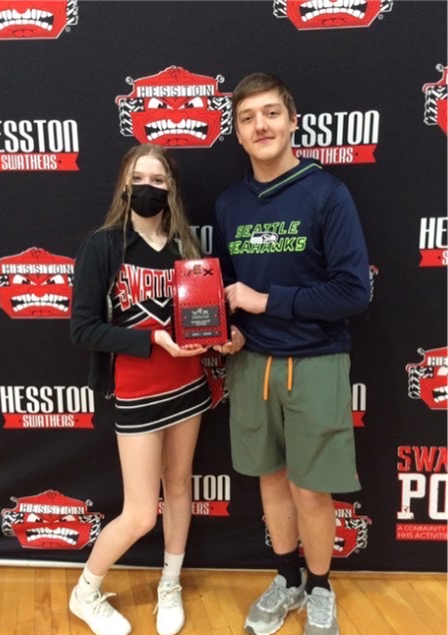 The Hesston Community Foundation board of directors voted unanimously to grant $2,000 to team 7862D, Jones Braker and Madi Tozier, to attend the World's Robotics Championship in Dallas, TX May 5-7, 2022. As the program is outside the scope of school support and funding, the team sought funding in the amount of $3,000 from community sources, including the Foundation, to cover the cost of their team registration and travel expenses.
The duo recently won the Innovate Award at the State Competition. Shortly thereafter, VEX invited Jones and Madi to participate in the World Competition. Their team is the only one from Hesston attending the World Competition. Considered an opportunity of a lifetime, they are the only team to go to worlds in three years from Hesston.
Madi and Jones are sophomores at Hesston High School. Jones is a sophomore, and this is his 2nd year in robotics. He joined the team to exercise his ability to think three-dimensionally in order to create something tangible, something you can see at work. Madi is also a sophomore and is grateful for the opportunity to have attended state and excited to attend World's. She joined robotics because her brother talked highly of it and it sounded challenging and fun. She has quickly excelled in the program.
The members of the team are perfectly matched. Their innovative robot has a symmetrical design with a claw lift, goal lift and ring scoring technique. Together, they have overcome many obstacles including coding, building, win-point and driving. Their work has qualified them for six awards, including an out-of-state award. The Innovate Award, which qualified them for the World's Championship, was given to them for a specific, unique piece of engineering that exemplifies thinking outside the box and innovative engineering design.
We wish them the best of luck next week!