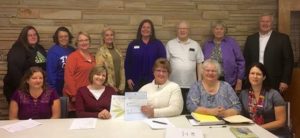 Front Row LtoR: Tammy Jackson, Marilyn Loganbill, Arlene Garrison, Judy Rittgers, Darla Wilken
Back Row LtoR: Valerie Garver, Natise Vogt, Jennifer Miles, Connie Rickard, Executive Director Respite Care;, Angie Tatro, Executive Director CKCF; Harlan Rittgers, Marge Warta, CKCF Board, Ron Lang, CKCF Board. 
Trinity Heights Respite Care accepted a grant check from Central Kansas Community Foundation (CKCF) during a board meeting October 17, 2017.
Trinity Heights Respite Care's mission is to provide respite care to families in Harvey and Marion Counties who have special needs children, age birth through 16 years. Trinity Heights Respite Care is a ministry of Trinity Heights United Methodist Church.
The CKCF board had the opportunity to award designated grants from the Kansas Health Foundation – Newton Fund this Fall and awarded three special grants. Trinity Heights Respite Care was among them. "Over the years, CKCF has taken notice of the exceptional work Trinity Heights Respite Care is doing to care for the families and caregivers who have a loved one with special needs," said Angie Tatro, Executive Director of the Foundation.
Trinity Heights Respite Care is a unique service that focuses on families of children with special needs.  Our service provides periods of relaxation to families to help them rejuvenate, attend to other responsibilities of daily living, and basically give a gift of time to the family.  "Respite care is a temporary rest from the daily challenge of caring for a family member who has special needs, a gift of time," said Connie Rickard, Director of Trinity Heights Respite Care.
Regularly scheduled respite care allows the child with special needs opportunities to develop ongoing relationships and trust outside the family unit.  Additionally, respite care services, supporting the needs of these select families increases community awareness and acceptance of persons with special needs.  Overall these services are a life saver to families.  When parents/caretakers become stress, this effects the whole family, work, and their health. Richard went on to say, "Our service does more than just provide a short period of care."
The program requires families pay part of the cost of care, based on a sliding scale. Grants like this one help off-set costs for the families utilizing services. Without the sliding scale, many families could not afford this valuable service.
The Newton community is rich with resources like Respite Care. If you need more information about local charities, please contact CKCF and ask for Brenda Sooter, Program Officer – Grants, at 316-283-5472.