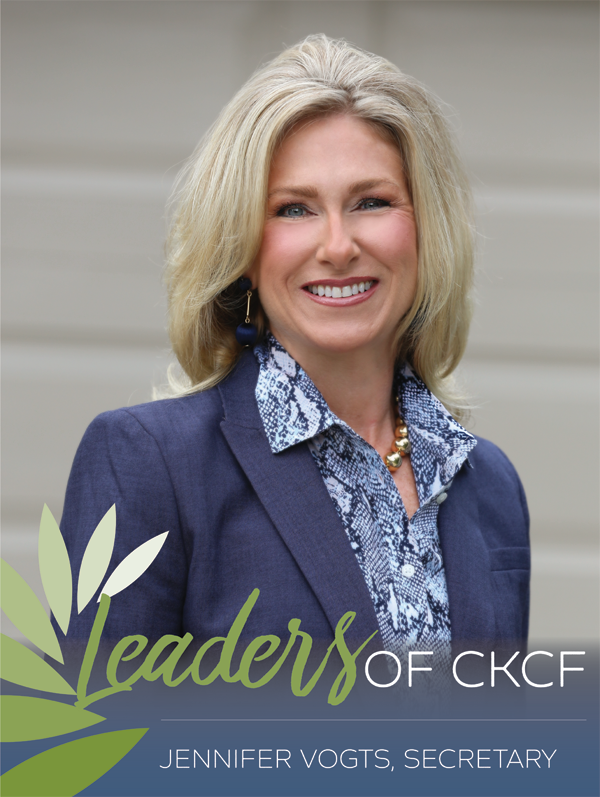 JENNIFER VOGTS
SECRETARY
ABOUT JENNIFER
While Jennifer moved around with her father's Air Force career during her formative years, she spent the most time growing up in Norcross, Georgia. After graduation, she moved to Kansas and has lived in Newton since 2003. She married Alan Vogts and together they have a blended family filled with 6 children, a son-in-law, two grandchildren and two soon-to-be sons-in-law. She enjoys spending time with family, attending the kid's sporting events, running, reading, listening to live music and watching movies.
CAREER
For the past 12 years Jennifer has been a stay-at-home mom. Remaining connected and engaged in the Newton community in meaningful ways is very important to her. Therefore, sought involvement with the Women's Community Foundation, Leave a Legacy, North Newton Community Foundation, Central Kansas Community Foundation and others. This allows her the flexibility to balance her time and attention on the needs of her family while making a positive contribution to other endeavors outside of her home. Currently, Jennifer also works as needed with Alan's companies, Vogts Construction and Vogts-Parga Construction.
JENNIFER IS PASSIONATE ABOUT CKCF!
CKCF's mission is building stronger communities through charitable giving. Jen firmly believes that is what is going on in Newton and in CKCF's Affiliate service areas. It is very rewarding to see so many people, many of them her friends and neighbors, investing their financial resources as well as their effort and time generously and strategically back into their communities. The difference a donor's charitable contribution makes on the lives of people living in our communities is tremendous, and she is honored to get to see that first hand as a CKCF board member. She is so proud of the work CKCF does as a team. CKCF touts capable and talented leadership, and staff and board members work well together, and they have a lot fun while they're at it! As a result, CKCF assets have grown to over $22M across 380 funds producing over $1M in grants each year to help make communities stronger and life better in many areas like animal welfare, health and human services, science and education and arts and culture.  She is very thankful for the opportunity to be a part of something so significant to others and impactful on the world around her!
COMMUNITY ENGAGEMENT
In addition to her profound commitment to CKCF, Jen serves the North Newton Community Foundation, Newton Area Woman of the Year, SafeHope and Big Brothers Big Sisters serving Harvey County. She is also involved with Junior Reading Circle.
FUN FACT ABOUT JENNIFER
Jennifer is related to Noah Webster – they are cousins! He was an American lexicographer, textbook pioneer, English-language spelling reformer, political writer, editor, and prolific author and was the author of Webster's Dictionary. Also, Al and Jennifer watched all 7 seasons of Game of Thrones in three weeks!