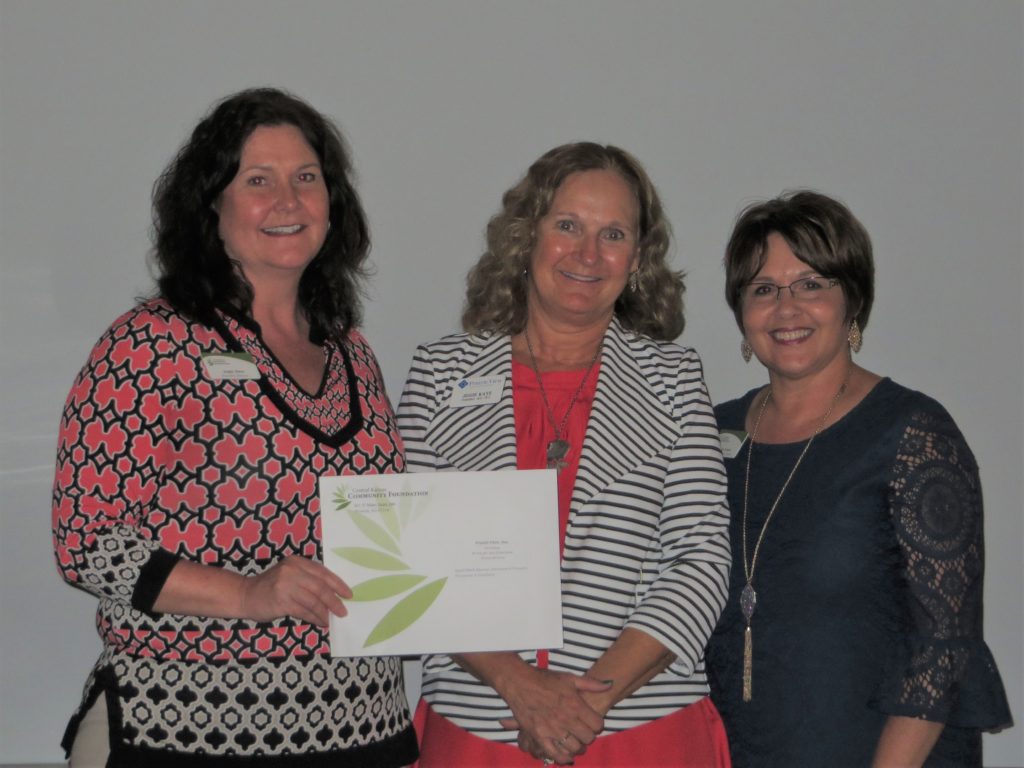 Pictured L to R: Angie Tatro (CKCF), Jessie Kaye (Prairie View), Brenda Sooter (CKCF)
Central Kansas Community Foundation (CKCF) is pleased to announce the 2018 Central Kansas Community Foundation Kids FUNd grantees which are funded from proceeds from the L. Marie Haun Charitable Fund for Children.
Since 2005 the Kids FUNd has been supporting local projects and programs serving kids. Originally this fund was supported by the Sand Creek Station Pro/Am Golf Tournament. After 2012 the Pro/Am completed their support of the fund and the Haun Charitable Fund was started as a means of continuing the provision of making grants to kid serving charities. The L. Marie Haun Charitable Fund for Children has awarded over $227,000 since 2013 to organizations who have interest in children's behavioral research, child welfare, teaching parent skills, and/or strengthening families.
This year $30,500 was given to 11 organizations that are providing programs and projects that are supporting area children and families. Here is the list of the organizations who received funding this year and are doing amazing work within our local communities:
Kansas Children's Service League- "Period of PURPLE Crying Shaken Baby/Abusive Head"
Harvey County DV/SA Task Force, Inc.- "Building Better Lives for Children and Youth"
Prairie View, Inc. – "Mental Health Awareness, Intervention & Prevention Presentations & Consultation"
Sunlight Children's Advocacy and Rights Foundation – "Sunshine Children's Home"
Rainbows United, Inc. – "Strengthening Parenting of Children with Special Needs
Mirror Inc. – Youth as Resources"
Offender Victim Ministries – "Caring Dads Curriculum Development"
Special Families – "Lending Library Parenting Project"
Wichita Fellowship Club, Inc. – "101 Club Fundays for Kids"
Partners In Education Foundation, Inc. – "Please Pay Attention"
Communities in Schools – "CIS of Mid-America Program at El Dorado Middle School"
"I know that Marie would be very satisfied with the selection of the projects that are supported this year for area children," stated Wynona Haun, Newton, sister in law to the late L. Marie Haun.  Wynona has served on the grants review committee the past 5 years and enjoys reviewing the applications each year.  "This year there was a total of 34 applications asking for  $133,000.00 in support.  There is so much need in our local communities for our children, it is hard to determine what projects/programs to support because they are all worthy causes to support."
Central Kansas Community Foundation hosted an award ceremony on Tuesday, July 31, 2018 at  Norm's Coffee Bar, Newton.