Central Kansas Community Foundation (CKCF) located in Newton, Kansas serves the surrounding region as a parent foundation to twenty (20) affiliates, 15 of which are regional rural communities.
The foundation recently celebrated during their annual Board Retreat, Monday, February 27, 2017 a milestone, $20 Million in assets under management. The result of this growth in assets under management, becomes a community benefit as over $1.2 Million in grants and scholarships were awarded in 2016 to local charities and causes. CKCF manages over 20 competitive grant cycles, 64 scholarship applications and oversees designated and donor advised fund distributions.
The mission of this 501 (c) (3) charitable organization is to Build Stronger Communities through Charitable Giving. This mission provides direction for the main purpose of improving the quality of life for generations to come. A community foundations value is not just about today, but tomorrow.
Their history is solid. The Central Kansas Community Foundation was originally founded in 1995. Following a stable history serving a tri-county area the foundation merged in 2009 with the well-established Greater Newton Community Foundation. Today, the CKCF continues to demonstrate a commitment to strengthening communities across the entire Central Kansas region.
Affiliates served by CKCF include the following communities, Butler County, Augusta, Douglass, El Dorado, Elk County, Florence, Fredonia Area, Goessel, Halstead, Hesston, Hillsboro, North Newton, Peabody, Remington Area, Valley Center; plus, non-community affiliates that include: Franklin D. Gaines & Beverly J. Tipton Foundation; Second Century Library Foundation – Newton; Trinity Heights UMC Foundation; Walton Rural Life Center Charter School Foundation and Women's Community Foundation.
Some may still ask, "What do they do?", CKCF acts as a steward, protecting charitable dollars donors entrust with the foundation and watch out for those donors' interests even after their gone. Donor may be individuals, families or businesses. CKCF strives on building relationships with donors, right down to their philanthropic interests, goals and even concerns. To ensure that the gift left to your community through the foundation is always used in the manner you intended and to the best possible effect, they provide hands on attention.
The Foundation prides itself in providing personalized services, 1) tools and resources that fit donor aspirations and community needs; 2) solutions to make giving an easy, flexible and effective process; 3) local expertise and in-depth understanding of community challenges and needs; and 4) community leadership in meeting those challenges and needs.
The long-term goal of your community foundation is to build permanent funds supported by many donors. Currently, the 90-and-counting members of the Kansas Association of Community Foundations have more than $3.9 billion in assets. In 2015 alone, foundation professionals and board members oversaw the reinvestment of $393 million into communities across the state. Through grants to various organizations and causes, community foundations truly make a difference in the lives of Kansans. CKCF is proud to be a part of this statewide effort.
The 2017 CKCF Board of Directors provides stewardship for this thriving community partner. Board Members include: Tim Hodge, Chairman; Jennifer Vogts, Immediate Past Chairwoman; Carrie Herman, Vice Chairwoman; Todd Kasitz, Treasurer; Marjorie Warta, Secretary; Rod Kreie, Finance Committee Chairman; Dr. Colin Bailey; Michael Barron; Brad Bartel; Amy Budde; Delores Dalke; Linda Ewert; Joel Gaeddert; Jason High; Ron Lang; Linda Ogden; NM Patton; James Regier; Melvin Schadler and Kathy Stucky.
Leaders make a difference in their success. They honored in December outgoing board members, Don Patry, Dick McCall and Jay Holstine.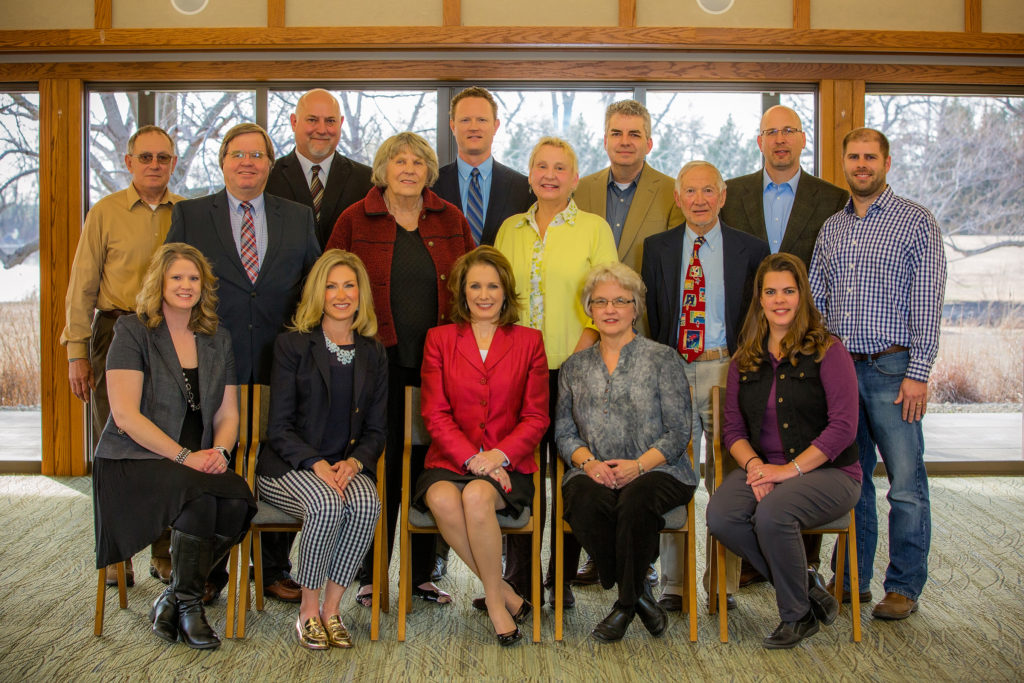 Back Row (L to R): NM Patton, James Regier, Tim Hodge (Chairman), Brad Bartel, Todd Kasitz (Treasurer)
Middle Row (L to R): Rod Kreie (Finance Committee Chairman), Marge Warta (Secretary), Linda Ogden, Dr. Colin Bailey, Joel Gaeddert
Front Row (L to R): Carrie Herman (Vice Chairwoman), Jennifer Vogts (Immediate Past Chairwoman), Kathy Stucky, Linda Ewert, Amy Budde
Not Pictured: Mike Barron, Melvin Schadler, Delores Dalke, Jason High, Ron Lang
If you are interested in learning more, please contact Angie Tatro, Executive Director at 316-283-5474. Together We Can Accomplish Great Things!