---
PARTNERING COMMUNITIES WITH COMMUNITY FOUNDATIONS
Kansas communities are uniquely situated to participate with and benefit from their local community foundation.  The North Newton Community Foundation (NNCF), created in 2012 with the support of the North Newton City Council, has grown to an asset base of $248,500.  In 2019 NNCF expects to award $12,000 to local charitable endeavors.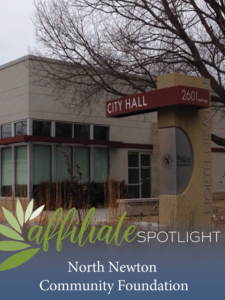 The City has been supportive by annually budgeting matching funds for donors who wish to create an endowment for the benefit of North Newton residents.  The match is made with the provision that the earnings from each fund will accrue as a revenue item to the City's general fund.  The City reviews the recommendations of NNCF for grant awards and decides whether to concur in the recommendation.  To date, the City Council has concurred with the recommendations.
In the last three years, the City has increased the matching funds available from $10,000 to $20,000 with $10,000 to be used for the creation of new endowments and the other $10,000 used to create new endowments or match contributions to existing endowments.
The financial implication for cities is striking.  Investment of available funds by Kansas cities is limited to certificates of deposit or direct obligations of the federal government at a rate of about 2% annually.  When funds are matched up to $20,000 and then turned over to the local foundation for conservative market investments, the fund earnings should average 5% annually over the years.  Thus, the typical earning on the original $10,000 would be $1,000.
The key to making this work is preserving the public interest in decision making.  In other words city councils need to make grant awards for projects or programs that they would otherwise fund or would like to fund.  Endowment documents can reflect that public interest by containing language which describes eligible and ineligible activities.
This is just one more example of public-private partnerships that provide comprehensive benefit a local community. If your city council is interested in this model, please reach out. We are happy to share our success.
---
North Newton Community Foundation will be featured in an upcoming Kansas Association of Community Foundations white paper series on rural community foundations.