Central Kansas Community Foundation (CKCF) announced their 2017 charitable grant totals. The charitable funds under their management support worldwide, state and local nonprofits in central Kansas, in turning hopes into realities.
64 competitive grant cycle funds gave $382,984
21 organizations & agency funds, gave $627, 212 (with one-time distribution of $500,000)
76 designated funds gave $370,142
27 donor advised funds gave $116,738
50 scholarship funds gave $94,753
Charitable gift annuities gave $17,774
Grand total of grants given to charitable entities in 2017 = $1,609,605.45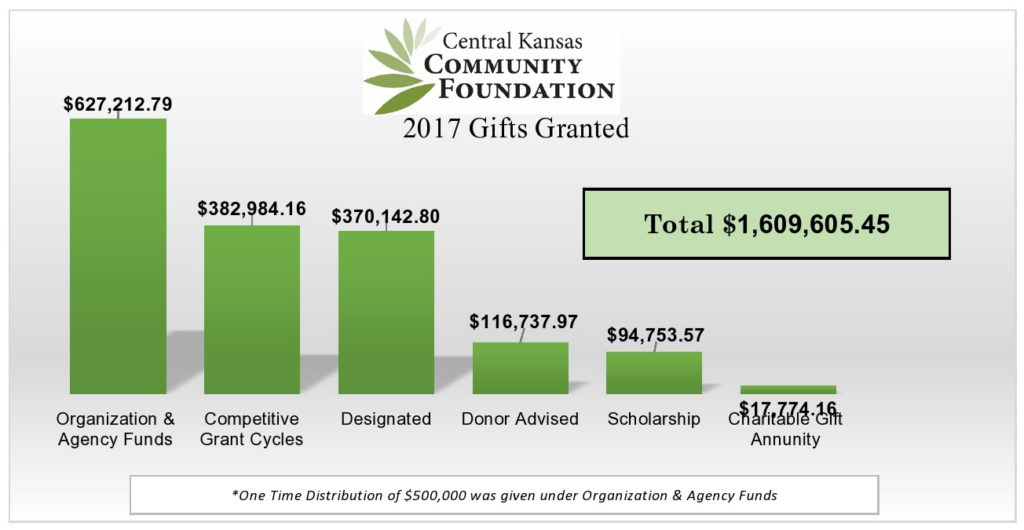 CKCF's mission is to Build Stronger Communities Through Charitable Giving. The projects/programs that were funded will open the future to many possibilities. Annually, more than a million dollars in community impact is provided in the following areas: Animal Welfare, Arts & Culture, Community Preservation & Revitalization, Emergency Disaster Needs, Health & Human Services, Science & Education, and other non-categorized areas, example being Operations.
Based in Newton, Kansas CKCF is a host foundation. They are a 501 (c) (3) not for profit organization with a Board of Directors. Serving in 2017-18 are Carrie Herman (Chairwoman), Tim Hodge (Immediate Past Chairman), Joel Gaeddert (Vice Chairman), Jennifer Vogts (Secretary), Todd Kasitz (Treasurer), Rod Kreie (Finance Committee Chairman), NM Patton, James Regier, Brad Bartel, Marge Warta, Linda Ogden, Dr. Colin Bailey, Linda Ewert, Amy Budde, Melvin Schadler, Delores Dalke, Jason High, Ron Lang, Jon Zerger, and Rachel Swartzendruber Miller. As a host the CKCF is the overarching governing board, however their affiliate foundations have local advisory boards that promote the local needs and interests of their mission and community.
Angie Tatro, Executive Director of CKCF said, "CKCF is dedicated to helping donors make a difference to causes that matter to them."
Tatro went on to say that donors can be individuals, families or businesses.
"Donors are savvy these days, they have options for giving and we are delighted so many see the value in giving to and through the foundation to causes that are important to them." she also shared. "Whether in life or as a bequest we are committed to managing the intent of our donors for the betterment of our Central Kansas Region."
COMMUNITY IMPACT
Brenda Sooter, CKCF Program Officer – Grants, sees firsthand the impact grants can have in meeting local needs.
"The rural communities served by CKCF and the affiliates are seeing the impact from grants made back into the community," commented Sooter. "They are helping feed the hungry, educate our youth, offer recreation for health improvements, socialize our elders and so much more."
For example, in 2017, Community Playschool, North Newton was funded for a "Healthy Eating: Fresh Whole Foods" project. With the funding Community Playschool could serve their children a variety of healthy fresh foods for their daily snack.
"Children love the fruit and vegetable snacks we serve, sometimes we have a hard time keeping enough around, the children choose fruit instead of crackers during snack time," stated Director Jeanette Leary.
A grant was given to Main Street Ministries in Hillsboro to fund their "Food Bank" project. Director Mary Steketee was assisting a young woman and her baby who were new to the Hillsboro community, hoping to help her meet her food needs. As Mary assisted her, the young mother was thanking the staff for being willing to help when no one else could.
Stekette shared, "We get compliments all the time for great service, quality foods, and being so welcoming and non-judgmental."
Another notable example of community impact can be found in the City of Peabody. Prior to 2017 funding, the Peabody swimming pool only had a picnic table for seating.  With the grant, 14 Adirondack chairs and nine chaise lounges were purchased, allowing a more comfortable and better place for children and families to relax.
Stories like these and so many more are what the foundation work is all about. Growing now to more than $22M in assets the Central Kansas Community Foundation has a mark in working with donors and charities on its future.
"Our growth can be viewed as a beam of light, casting a view for a bright future for generations to come," said Tatro.
Community affiliates, currently hosted by CKCF with back office support and infrastructure as a nationally accredited community foundation, include; Augusta Community Foundation, Central Kansas Community Foundation -Butler,  Douglass Community Foundation, El Dorado Community Foundation, Elk County Community Foundation,  Florence Community Foundation, Fredonia Community Foundation,  Goessel Community Foundation, Halstead Community Foundation,  Hesston Community Foundation, Hillsboro Community Foundation,  Newton Community Foundation, North Newton Community Foundation, Peabody Community Foundation, Remington Area Community Foundation, and Valley Center Community Foundation.  CKCF is also host to non-community affiliate foundations: Franklin D. & Beverly J. Gaines Foundation, Second Century Library Foundation – Newton, Trinity Heights United Methodist Church Foundation, Walton Rural Life Center Charter School Foundation and the Women's Community Foundation.
If you want to get involved or inquire about ways to give or receive, contact CKCF at 316-283-5474.
ABOUT CENTRAL KANSAS COMMUNITY FOUNDATION
Central Kansas Community Foundation mission is "Building Stronger Communities Through Charitable Giving." Founded in 1995 Central Kansas Community Foundation based in Newton, Kansas is an intermediary between donors and charities, the community foundation helps donors establish funds that financially support meaningful, charitable programs and services in their community. Central Kansas Community Foundation also host numerous affiliate community foundations throughout Central Kansas.  www.centralkansascf.org