Be Ready Be Resilient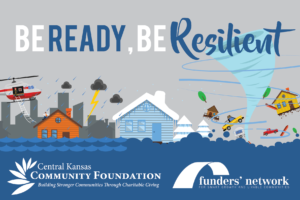 Expanding Community Response Efforts
to include Extreme Cold
Central Kansas Community Foundation  (CKCF) and their affiliates are expanding community-based Community Response Funds to now include weather related response efforts in addition to COVID-19.
 Click Here to make a donation. Community Response Funds are listed to help you direct your charitable gift to a community of your choosing.  The purpose of these funds is for support of 501 (c) (3) or other qualified tax-exempt organizations, i.e. city and county government, educational institutions and faith institutions.
Funds donated for COVID response are available to support initiatives in areas including PPE and sanitation supplies, tele-health technology, food assistance, utility and rent support and additional COVID related needs.
Weather related needs may include funds directed toward severe weather preparedness education for students and families. Funding basic needs such as food, rent and utilities.  Grants may also be available for repair or to support the weatherization process.
If your organization is assisting in the response effort, please contact the local affiliate community foundation in your area for application information.
Our Commitment to Disaster Response-
For the past four years CKCF has worked with a group of community foundations in the Midwest to build skills in disaster preparedness, response and recovery that can be used to help our communities make informed grant making decisions in times of crisis.  Entering this work, we presumed the challenges would be weather-related; now we realize disasters come in many forms and require various types of mitigation.
At CKCF we continue to expand our knowledge of the layers of needs and challenges facing communities in our service region.  Later this spring we are planning to initiate opportunities for multiple voices to be heard as we move toward recovery from both the COVID pandemic and this winter's weather disaster.
During the past year the word "resilient" has been an important term in many settings.  While none of us were prepared for the COVID pandemic, our communities have shown resiliency is needed and valuable in many settings-personally, in families, and in organizations and institutions.
 Why give to the Foundation?
By giving to the Foundation, you are putting your trust in our knowledge and expertise to find the greatest needs in our communities. We are connected to more than 400 charities in Central Kansas, several serving people affected by COVID-19 and Cold Weather. Charitable organizations provide a direct link to hundreds, sometimes thousands of people seeking support. We trust them to identify needs related to COVID-19 and apply for grants for relief funding. Review teams in our
communities
with open funds review each grant application and make recommendations for funding. The process is sound and meets rigorous due diligence requirements.
Your donation can stay right in your community!
Type in the name of your county/town or community in the comment box before checking out.
In addition to online donations, you may direct your check to the following address. Again, if you with to direct your donation to stay in your community, please write your community name in the memo of your check.
Central Kansas Community Foundation
301 N Main, Suite 200
Newton, KS 67114
THANK YOU! for your generosity. Together, we can overcome adversity!
---
Have Questions or Concerns?
Our office at 301 N Main St, Newton, is closed until further notice. Should you have an immediate need to meet with one of our staff members in person or make a transaction at the office location, please contact Angie Tatro at (316) 239-9451 or by e-mail at angie@centralkansascf.org.
Angie Tatro – (316) 239-9451, angie@centralkansascf.org
Kristie Diller – (620) 217-1196, kristie@centralkansascf.org
Kim Stahly- (316) 217-1150, kim@centralkansascf.org
Melinda Newell – (316) 282-2361, melinda@centralkansascf.org
Becky Nickel – (620) 951-4022, becky@centralkansascf.org
Susan Lamb – (620) 327-2422, susan@centralkansascf.org
Affiliate Staff