---
RETURN HOME – TABLE OF CONTENTS
---
WHAT IS CENTRAL KANSAS COMMUNITY FOUNDATION (CKCF) AND WHAT DOES IT MEAN THAT MY COMMUNITY FOUNDATION IS AN AFFILIATE OF CKCF?
Central Kansas Community Foundation (CKCF) hosts 19 affiliate foundations under its 501 (c) (3), not for profit status. Click here to see a Map of CKCF's Service Area.
CKCF provides structure and support to its affiliate foundations:
Maintains the 501 (c) (3), not-for-profit status
Manages the investment of charitable funds
Issues official tax receipts for donations and handles accounting
Oversees grant and scholarship selection and awards
Provides legal services and insurance protection
Provides marketing avenues via website
CKCF staff are located at the Newton Office, 400 S. Main, Ste. 100. In the spirit of stewardship of resources, the CEO is the only 40-hour full-time employee. The remaining employees work on a limited part-time basis. Please see CKCF Staff Roles and Contact Info for further info or to contact the appropriate staff person with your questions.  The CKCF Board of Directors guides the foundation using a 5-year strategic plan.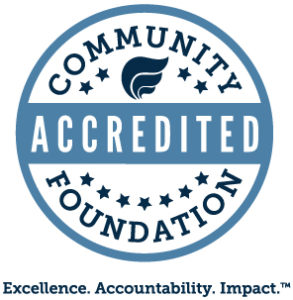 CKCF is the trusted local foundation in Central Kansas that meets accreditation criteria for National Standards of U.S. Community Foundations®—the highest standards for philanthropic excellence. Based in Newton, Kansas, its mission is to build stronger communities through charitable giving and to strengthen communities by serving local affiliates in Central Kansas.
Additional Resources