Central Kansas Community Foundation (CKCF) located in Newton, Kansas serves the surrounding region as a parent foundation to twenty (20) affiliates, 15 of which are regional rural communities.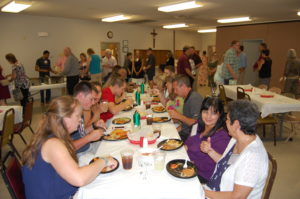 The foundation hosted the 2017 Regional Scholarship Award Ceremony at our Lady of Guadalupe, Newton, KS on Friday night, July 21, 2017. CKCF was celebrating 86 scholarship recipients for the 2017-18 academic year. Over 170 guests participated in the event that highlighted donors who make these scholarships possible.
The mission of this 501 (c) (3) charitable organization is to Build Stronger Communities through Charitable Giving. This mission provides direction for the main purpose of improving the quality of life for generations to come. A community foundations value is not just about today, but tomorrow. What could be more fitting than a celebration for students that will be the workforce of tomorrow. Angie Tatro, Executive Director said, "Investing in our youth is an investment in our Future." She went on to say of the 86 recipients most will be attending higher education institutions in Kansas, however six students will be going out of state.
Scholarships distributed this year ranged in size from $500 to $3,400. Nearly $100,000 is being given this year through competitive and designated scholarship. CKCF manages 69 competitive scholarships and 12 designated scholarships. This specialized area of funds makes up about ten (10) percent of total assets under management at the foundation.
To bring home the meaningful nature of scholarships, Jacque Sundgren shared her family's legacy of their daughter, Jenny Sundgren Baker. Steve and Jacque Sundgren lost their daughter in a car accident in 2003. They had a desire to keep her legacy alive. Jacque shared how their family has done this by establishing a donor advised fund (DAF) in Jenny's name at CKCF as well as a scholarship fund for graduates of Flinthills High School, located in Rosalia, KS. Jenny had a fondness for the older population and annually the DAF distributes to the Butler County Department on Aging among other charities. This year the Flinthills high school scholarship recipient, Gina Brown, will be going to Wichita State University. Tatro said, "the Sundgren family has turned tragedy into triumph."  Jenny's legacy lives on as many, nearly most of the scholarships under management at CKCF. While not all scholarships are memorial funds, many are. "It is important that our students are aware of the source of their gift", Tatro said.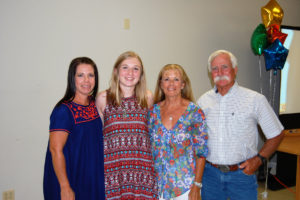 In closing Tim Hodge, Chair of the CKCF Board, said "folks this is a special night, coming together as a region for a positive celebration." He went on to congratulate the recipients and further express how CKCF is able to do this work because of community support and generous donors.
The event was sponsored by The Citizen's State Bank, Edward Jones, Everence Financial, Office Plus, Stucky Investments, Peabody Community Foundation and Waddell & Reed.
Affiliates served by CKCF include the following communities, Butler County, Augusta, Douglass, El Dorado, Elk County, Florence, Fredonia Area, Goessel, Halstead, Hesston, Hillsboro, North Newton, Remington Area, Valley Center; plus, non-community affiliates that include: Franklin D. Gaines & Beverly J. Tipton Foundation; Second Century Library Foundation – Newton; Trinity Heights UMC Foundation; Walton Rural Life Center Charter School Foundation and Women's Community Foundation.
If you are interested in learning more, please contact Angie Tatro, Executive Director at 316-283-5474. Together We Can Accomplish Great Things!